Thanks to high royal directives, Morocco has made "great progress" in reforming and improving its education system with the goal of bringing about a "true educational renaissance," Prime Minister Aziz said Monday in New York. Ahannuch.
"Thanks to the High Royal Guiding Principles, Morocco has made significant progress in the process of reforming and improving the education system with the aim of realizing a true educational renaissance in line with the goals of the UN agenda. 2030 for sustainable development and the strategic objective of a new development model," Ahannouch emphasized before the high-level meeting of the UN Summit on Education Transformation.
In this sense, Morocco has developed an education reform roadmap for 2022-2026 based on broad national consultations and in accordance with a participatory methodology that encourages the contribution of all stakeholders in education reform. teachers, students and their families, he explained.
In this regard, the head of government clarified that this roadmap revolves around three main areas aimed at enabling students to acquire basic skills, improve the work of the teacher and his ability to ensure the transformation of education and increase the level of education. schools by creating modern and open educational institutions.
This roadmap also aims to achieve three goals by 2026: reduce school dropout by a third, increase by 70% the number of students who acquire basic skills through improved learning and knowledge, and double the number of students who take advantage of semi-curricular and side events, Ahannouch continued during this summit, which is being held on the sidelines of the 77th United Nations General Assembly.
The head of government also noted that in order to solve this problem and achieve the set goals, the government wants to involve all stakeholders in the application of the principles of good governance, making efforts to mobilize the necessary funding and explore innovative approaches to support reform and ensure sustainable funding.
According to him, we are also talking about the conclusion of partnerships at the bilateral and multilateral levels with international partners.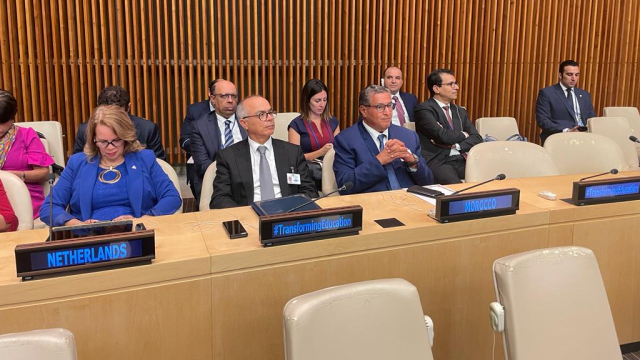 Aziz Ahannoush leads the Moroccan delegation to the UN General Assembly.
© Copyright: MAP
The Head of Government also stressed that, in fulfillment of the high royal vision for South-South cooperation, Morocco spares no effort to implement promising cooperation projects in the field of education and training with partner countries and launches specific initiatives, such as the initiative of His Majesty King Mohammed VI. initiative to establish the "African Institute for Lifelong Learning".
Reaffirming Morocco's call for urgent action to achieve the anticipated initiative to transform education and finance education, Ahannouche reaffirmed the Kingdom's commitment to supporting the global partnership to achieve the sustainable development goals by 2030, especially through the high-level commission. relate to SDG-4 in the field of education.
Ahannoush leads the Moroccan delegation to the UN General Assembly on behalf of His Majesty King Mohammed VI.