As China ramps up its efforts to digitize the country, digital technologies are widely adopted, bringing digital benefits to more and more people. For many Chinese, digitization scenarios have already become an integral part of their daily lives. People can now view real-time traffic information on navigation apps that provide estimated travel times. They can also try on clothes online on an e-commerce platform that offers a virtual fitting room to try out the clothes. In virtual museums, people can enjoy valuable cultural relics at home.
A boy plays Go with a robot developed by Chinese IT company iFlytek during the 5th Ditigal China Summit on July 22, 2022. (Chen Bin/Pic.people.com.cn)
In the digital age, everything is connected. The country has further strengthened the foundation of digital industrialization and has accelerated the process of industrial digitalization over the past decade. The digital economy has grown from 11 trillion yuan in 2012 to 45.5 trillion yuan in 2021. Today, digital technologies are penetrating all corners of the country and are fundamentally changing the lives of the Chinese.
Over the past ten years, digitalization has made people's lives easier. From 2012 to 2021, Internet penetration in China increased from 42.1% to 73%, and all prefectural cities were covered by optical networks. In addition, all administrative settlements and low-income settlements throughout the country have access to high-speed Internet. By the end of July, there were 475 million 5G mobile users in China. The country has already built the world's largest 5G network.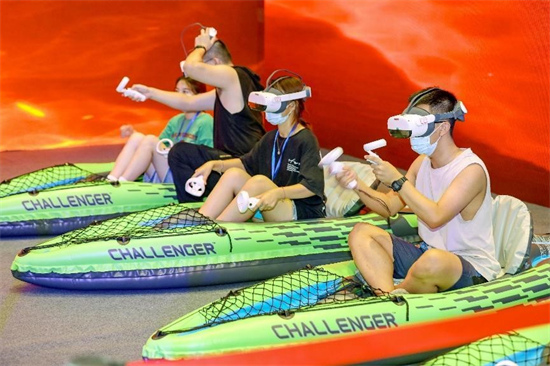 On July 18, 2022, people participate in a virtual rowing game at an esports hall in Fuzhou city, southeast China's Fujian province. (Xie Guiming/Pic.people.com.cn)
With the rapid development of digital infrastructure, new technologies and business models have constantly emerged, such as the sharing economy, online commerce and mobile payments. Therefore, all aspects of public life benefit from the digitalization of the country.
Today, people order food by scanning QR codes and pay bills using facial recognition. Smart parking and waste sorting also make everyday life easier. In rural areas, farmers sell agricultural products such as black mushrooms from Shaanxi province (in northeast China) and yellow flowers from Shanxi province (northern China) on live streaming platforms as digital technology has accelerated the transition from traditional farming towards smarter agriculture. More and more farmers are seeing their income grow thanks to digitalization.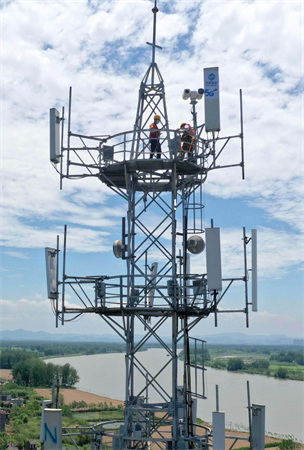 On July 8, 2022, workers set up a 5G base station antenna in Xiuba Township, Yian District, Tongling City, Anhui Province (east China), China. (Guo Shine/Pic.people.com.cn)
Over the past ten years, digitalization has made services much more convenient for people. Thanks to digital technology, a new mode of service has spread in China, represented by online and remote services. In Hainan province (southern China), 18 urban hospitals, 340 rural clinics and 2,700 rural clinics are equipped with 5G telemedicine devices. These devices can reduce the average length of patient visits by three to five hours and improve hospital efficiency by 30%.
A number of 5G smart measures, such as 5G full site coverage, 5G visible control platform, and guest room monitoring system, have been implemented at the Guling tourism site in Fuzhou in southeast China's Fujian province. Thanks to these measures, the number of visitors increased by 13%.
In the city of Fuzhou in Jiangxi province (in southeast China), village students can also take advantage of high-quality urban education through online courses. China has established the world's largest online education platform and a unified national health insurance information platform. More than 90% of counties and regions can use remote medical consultation. During this remarkable decade, digital technologies have largely reduced the gap in the unequal distribution of quality services between cities and villages, as well as between regions.
Over the past ten years, China has greatly optimized the efficiency of its digital governance. Digital government is an important part of China's digitalization. The application of digital technologies to public services is an effective measure to modernize the system and management capacity, as well as a choice that a country must make to meet the growing demand of the population for public services.
Currently, mobile platforms for public services have become widespread throughout the country, and citizens can perform administrative procedures through a single site and in any region of the country. Nearly 90% of provincial-level administrative licenses can be applied online, and applicants can obtain licenses by visiting the respective offices no more than once without having to travel multiple times. The average processing time has been more than halved.
China ranks ninth in the United Nations e-government or e-government development index (EGDI).
By digitizing the country, China will activate the digital economy, improve the efficiency of digital government, optimize the digital environment and digital cooperation, and enhance digital security. Digital technologies will definitely bring more benefits to society and give people a sense of satisfaction, happiness and security.
(People's Daily reporter Ren Guan)