Mecum Auctions has auctioned a dark green Dodge Charger Hemi Daytona at a record price – the car is a very special example.
The 1969 Dodge Charger Daytona is a very attractive car with a huge rear wing. And since the car only rolled off the assembly line from 1969 to 1970, it's also pretty rare—Dodge made only 543 models in total. Only a few came with Hemi engines, and only one engine came with dark green paint, a dark green interior and a rim that borders the entire Lynch Road Assembly plant in Detroit, Michigan. US auction house Mecum has now sold this green Daytona charger as part of an Indy auction for $1.32 million (currently the equivalent of approximately €1.23 million). The Charger Daytona was not at all expensive – the previous record was 900,000 dollars (840,555 euros).
22 only with 4-speed transmission
A total of 70 models had a Hemi engine—all other Daytonas superchargers were powered by a 440 Magnum V8. The 7.2-liter unit produced 380 horsepower, 51 horsepower less than the 426ci Hemi-dedicated NASCAR racing engine, which got 431 horsepower from the 426 cubic inches (6.98 liters). A four-speed manual gearbox (Type A833) also makes the Daytona Charger special: in 1969, the year this car rolled off the assembly line, only 22 Hemi models were made with this four-speed gearbox. This was part of the 4.10 Super Track Pak, which also included, for example, a Hurst transmission with grooved wood handle, disc brakes, a heavy-duty 4.10-inch Dana 60 rear axle, a Sure Grip differential and a reverse warning light.
Only one inside and out in green
The exterior color of the F8 Dark Green Metallic matches the black painted rear spoiler and green vinyl seats with the C6G color code. There is a so-called N85 Tic-Toc-Tach on the C16 dashboard. This is a round instrument with a classic dial (Tic-Toc) in the center and the outside scale showing the speed (Tach – Tacho) – in this case the scale goes up to 150 mph (241 km/h). There's also a Chrysler solid-state AM radio with eight-way cassette deck, power windows, tinted glass (type G11), an S81 wood-grain steering wheel, A01 light assembly, electric driver's-side mirror, and a six-way adjustable driver's seat. The 15-inch steel wheels painted in metallic green with Redline tires and chrome-plated hubcaps, bearing the so-called Fratzog logo, ensure color harmony. The trio was the emblem of Dodge at the time – it was meant to remind us of space and thus have a modern look.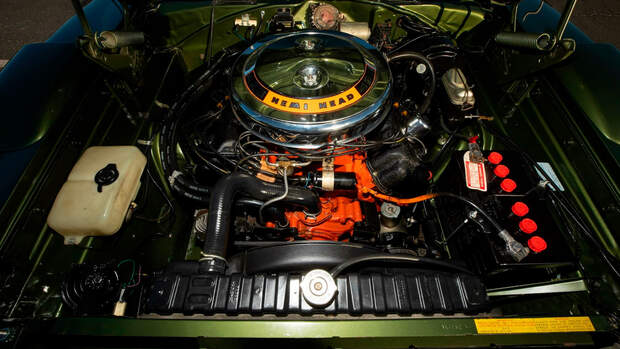 Over a million dollars for the first time
Customer order from Dodge City Inc. In Phoenix, Arizona, he purchased the Hemi Daytona in 1969. His Model siblings were so successful in NASCAR racing that in 1970 NASCAR officials classified the design of the car, which seemed open but was entirely geared toward good aerodynamics, as illegal. The example for sale has been restored to the original. Mecum assumed that this unique Hemi Daytona charger, part number F111, full of luxury options at the time, would fetch between $1.1 and $1.3 million (currently the equivalent of €1.04-1.23 million). And now auction proceeds have exceeded the upper limit for MECOM specialists by a record $1.32 million.
opinion poll
Yes – as far as possible. What a great car.
No – it is very old, which is not possible.


Read more
If you still want the Dodge Charger Hemi Daytona: It made history as a race car and paved the way for the production model. Mecum sold this race car in 2021.
conclusion
The short-lived Dodge Charger Daytona has long become a cult car due to its open look with its massive free-standing spoiler on the boot lid. As a variant of the 431-horsepower Hemi V8 engine, it came from the factory only 70 times, and of these 22 copies only a four-speed manual gearbox was obtained.
Of these 22 specimens, only one is green on the outside and inside and is also almost fully equipped. A newly restored Dodge Charger Hemi Daytona has been auctioned for $1.32 million. On the one hand, it exceeded the expected price from 1.1 to 1.3 million dollars, and on the other hand, it set a new record for these models.